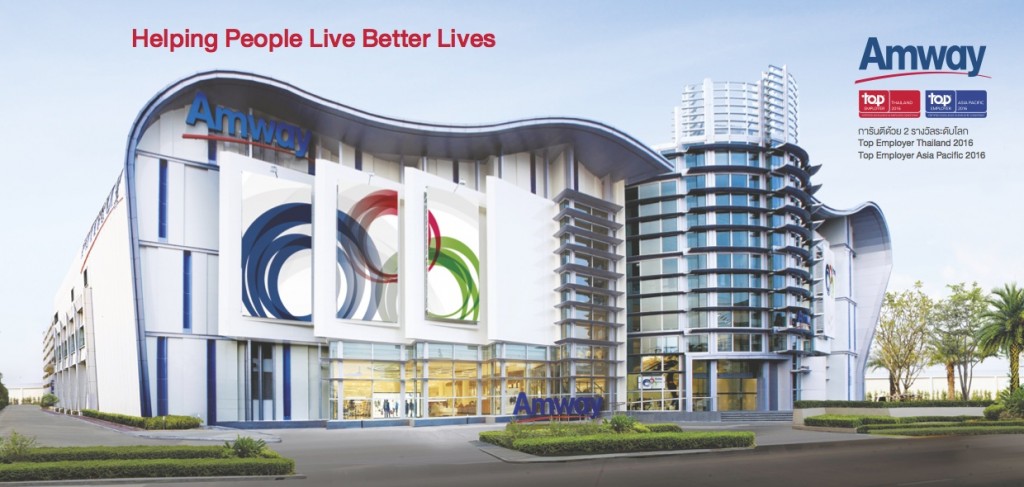 Amway is one of the world's leading direct selling companies operating in over 100 countries around the world. Our vision of building a brighter future by Helping People Live Better Lives today is reflected in the way we do business and treat our employees.   We understand the importance of quality of work and quality of life and we offer employment opportunities with this as one of our core beliefs. Our commitment to being a top employer has been sealed with an Honors Award for Labor Relations and Welfare (1997, 2006 – 2014). What's more, we have been awarded the Top Employer Thailand (2015 & 2016) for 2 consecutive years and Top Employer Asia Pacific 2016 Certification.
We respect our employees, recognizing their dignity, rights and contribution as individuals. We are committed to providing a workplace that stimulates creativity, quality and dedication. We offer training to encourage productivity, achievement and personnel satisfaction. We strongly believe that Amway is where you can create your own destiny.
One month guaranteed year-end bonus
Variable bonus based on company performance
Long Service Recognition
Provident Funds (5% – 12.5%)
Medical Benefits

Out-patient (OPD) – 25,000 baht per year (including dental and facial treatments, eyesight or Thai massage)
Group Health Insurance (In-patient treatment – IPD)
Annual Medical Check-up

Accident Insurance

Group Personal Accident Insurance
Travel Accident Insurance

Group Life Assurance
Death benefits coverage to an immediate family members
Exercise Allowance 7,200 baht per year
Social Security Insurance
Vacation Leave 12 days per year (15 days for 10 years of service)
Leave for Special Occasions

Religious Leave
Paternity Leave
Special price of company's product
Amway Cooperative Savings Plan
Special Loans

Home Disaster Loan
Home Loan
Purchase of computer by installments

Special Allowance

Wedding gift
Death benefits
Disaster relief grants

Effective training and development programs
Others

Welcome gift on the first working day
New Year's Gifts & Party
Birthday Gift
Sport day
Division & Company outing
Quarterly Divisional celebration meals
Etc.